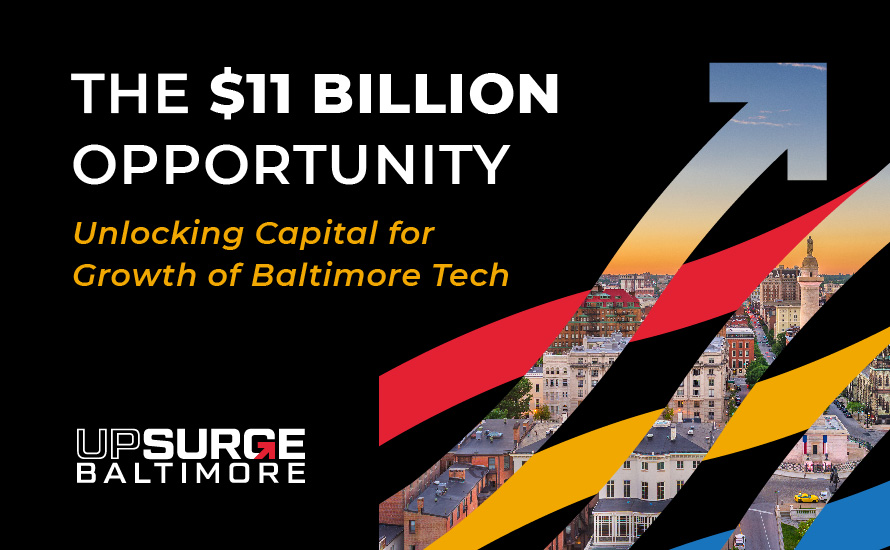 UpSurge, which aims to propel Baltimore into the top tier of innovation cities by building and bolstering a local innovation economy where all belong, released today a data-driven analysis that uncovered $11 billion in potential new Equitech startup capital over a period of three to seven years, on top of organic growth.
The $11 Billion Opportunity report highlights the unique – and often overlooked – assets of Baltimore, and the potential for those assets to drive the acceleration of its tech economy within the decade. It also provides specific benchmarks to achieve this goal. The report is a call to action to local companies, institutions, and investors, proposing that Baltimore has the opportunity to establish a new norm, a collective commitment to align around the Equitech vision and to effectively deploy resources that drive inclusive growth. With many doing a small part, the impact on Baltimore would be transformative.
The report revealed hidden, potential wealth in the following findings:
There are 10,346 decamillionaires (more than $10M net worth) in the Baltimore area.
Baltimore has a deep base of 121 foundations with $25 million or more in assets and a total of $55.8 billion in assets overall.
Even as U.S. venture funding decreased by nearly 1/3, local annualized venture funding and average deal size are projected to increase by 11% and 40% (YOY) respectively.
Healthcare and information technology (especially cybersecurity) remain Baltimore's tentpole sectors, leading in both dollars raised and deal count, even in a slow year for both nationally.
Core strengths in healthcare and cybersecurity still offer significant potential for growth, as Baltimore does not garner the share of funding commensurate with the scale of the sectors relative to the country.
Baltimore's most active investors around the country have local connections.
Public commitments of corporations, VCs and private equity (PE) funds to increase support for diverse entrepreneurs present robust opportunities for Baltimore tech, which boasts high percentages of women founders and founders of color.
Maryland lags competitor states in overall government commitment to tech and startups. Baltimore companies represent ~62% of the state's cyber and healthcare economies, so aligning state funding with that of other states would benefit Baltimore meaningfully.
In addition to identifying and quantifying untapped investment funding, UpSurge analyzed what these findings suggest for the future of Baltimore's startup ecosystem and evaluated their context amid larger nationwide trends.