Whew…last week was quite a week for the tech community.
Since the collapse of Silicon Valley Bank (SVB) just over a week ago, we and the founders and funders in our Equitech community have been working to understand both the direct and longtail impact of the blowup of such a central player in the national tech scene. As we've caught our collective breath, it seems the most far-reaching impact may be a contraction in VC funding and valuations, which is real for all founders, whether they were directly impacted or not. Startups are always balancing opportunity and runway, and this will be pivotal in the coming months if we are in a protracted funding slowdown.
It's not time to panic, it's time to prepare.
Focus on the mission-critical activities and the investors, customers, and team members that anchor your work. If you have less than 6 months of runway, put plans in place now to stretch it as far as possible. Consider alternative sources of funding such as accelerators, pitch competitions, crowdfunding platforms, small biz loans, or government grants. (Each type of funding has its own pros and cons, so be sure to do your research before committing to any particular source.) If you need to raise funds in a hurry, start with your inner circle – those already invested in your success. Be open about your remaining runway, candid about your strategy to extend it, and clear about what can be achieved with their continued support.
If you need help figuring out your runway, here is a basic formula:
Months of Runway = current cash balance ÷ monthly burn rate
Monthly burn rate = Monthly income – expenses (or just expenses if you do not have income)
Monthly income = revenue + investment + other sources of funds
Finally, let's keep celebrating our momentum and our Equitech community.
On the heels of a second record year, UpSurge just released Momentum 2023, our annual report on Baltimore's startup ecosystem and its accelerating progress. The upshot? We're poised for a breakthrough. By every metric – companies, dollars invested, average deal size, mega-deals, diversity – our city is a tech economy on the rise and a real bright spot in Baltimore. But our nascent ecosystem still has shallow roots that need constant tending.
We all have a role to play – as individuals, companies and investors.
Nurture growth by: taking a call or meeting, and following up with action; making intros to potential customers or pilot partners; angel investing in a promising company; and, championing founders with your networks and contacts. In so many ways, Baltimore tech is breaking the standard playbook as it grows into the country's first Equitech city.
Transformation often arises from upheaval. In the aftermath of the SVB collapse, Baltimore can emerge stronger than ever.
Read the full newsletter here.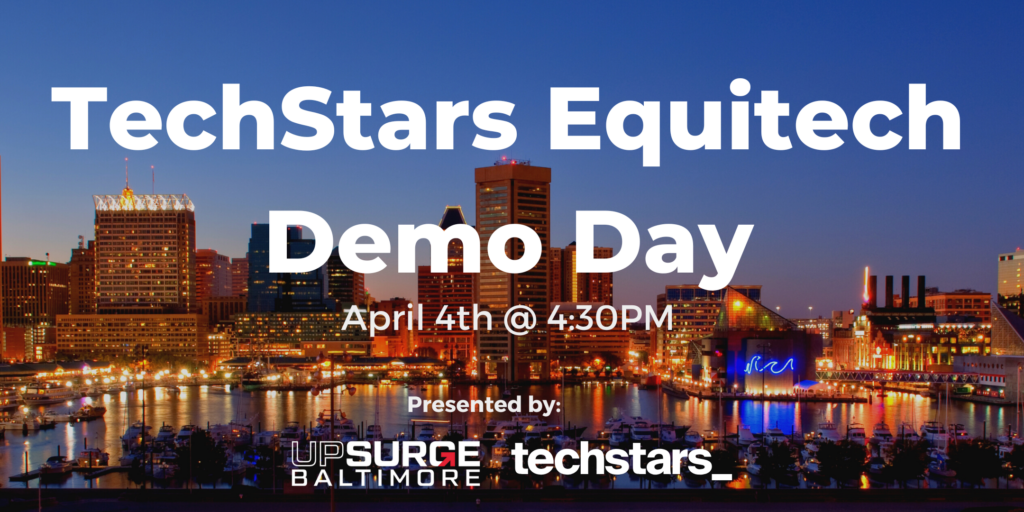 Hear the 2023 Techstars Equitech cohort pitch their innovations April 4th at M&T Stadium in Baltimore, MD. Join us for Techstars Equitech Demo Day to celebrate the 10 game-changing companies from the latest cohort! Space is limited and available on a first-come basis. Featuring a keynote from Governor Wes Moore!
Join us for Techstars Equitech Demo Day to celebrate the 10 game-changing companies from the latest cohort! Space is limited and available on a first-come basis.