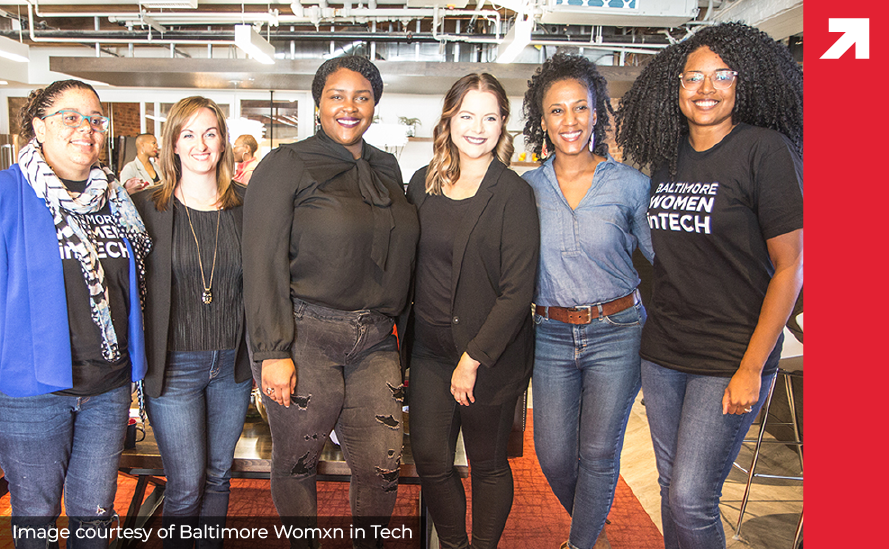 Behind every great ecosystem is a group of strong, visionary women.
Meet some of those who have anchored the Baltimore tech scene for the past decade, and guess what – they're all women. That's right, these game-changers and glass breakers have spent the past decade driving the Baltimore tech scene forward.
We owe a lot to this group of powerful leaders.
Shervonne Cherry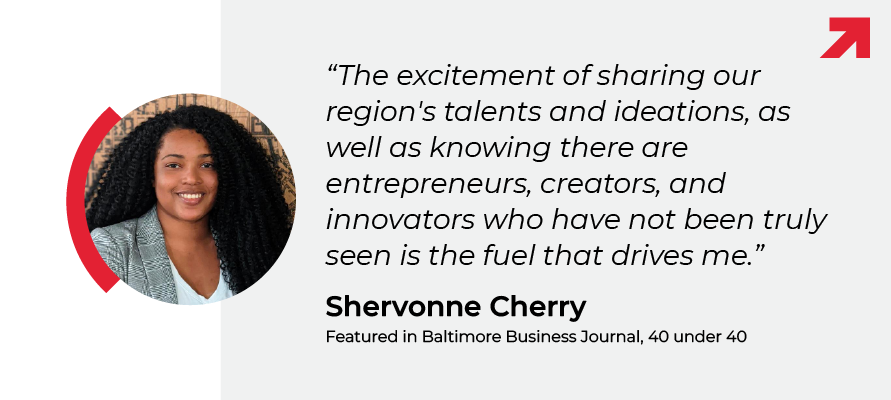 Shervonne Cherry is the Director of Community & Partnerships at Spark Coworking and a 17-year vet of the Baltimore tech scene.
Shervonne Cherry is an innovative and driven entrepreneurial ecosystem builder, who utilizes collaborative community building, design thinking, and startup advocacy to provide unique solutions for organizations. Based in Baltimore, Maryland, Shervonne has worked in both the corporate, government, and startup technology sectors for over 17 years. She is known for her collaborative community building, design thinking, and startup advocacy, in addition to creating inspirational co-working spaces for the startups working within Spark.
"The excitement of sharing our region's talents and ideations, as well as knowing there are entrepreneurs, creators, and innovators who have not been truly seen is the fuel that drives me," says Shervonne in a Baltimore Business Journal article where she was featured on the 40 under 40 list.
Jess Gartner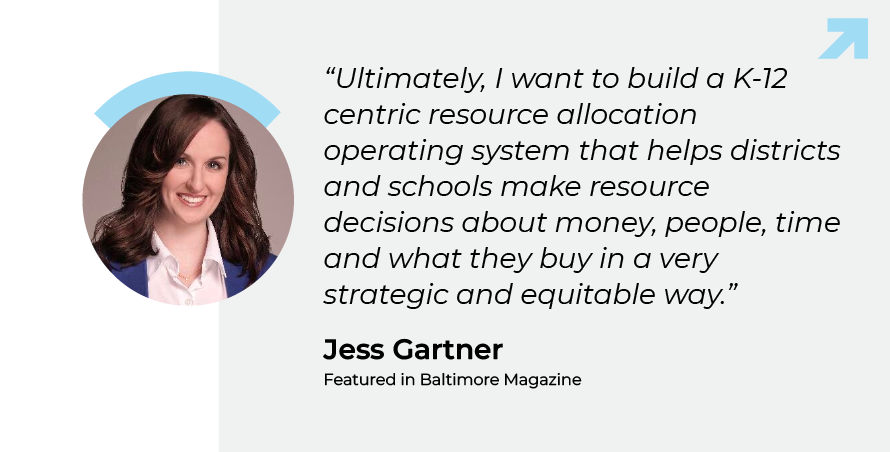 Jess Gartner is the Founder & CEO of Allovue, a company that empowers schools to equitably allocate financial resources.
Allovue specializes in helping school districts and state departments manage finances. The company works with districts across at least 15 states to help budget and manage billions in annual K-12 public education spending. She's also been an advisor, mentor, blogger and culture builder, inspiring countless other Baltimore entrepreneurs.
"Ultimately, I want to build a K-12 centric resource allocation operating system that helps districts and schools make resource decisions about money, people, time and what they buy in a very strategic and equitable way," Jess said in an article for Baltimore Magazine.
Recently, Jess sold her house, packed up her life and has set out to road trip across the country to find a new home. "I came up with the idea of staying two to six weeks at a time in different places, and trying to visit 12 to 14 cities over the course of a year or so," says Gartner. Her exit interview can be found on Baltimore Fishbowl.
Claire Broido Johnson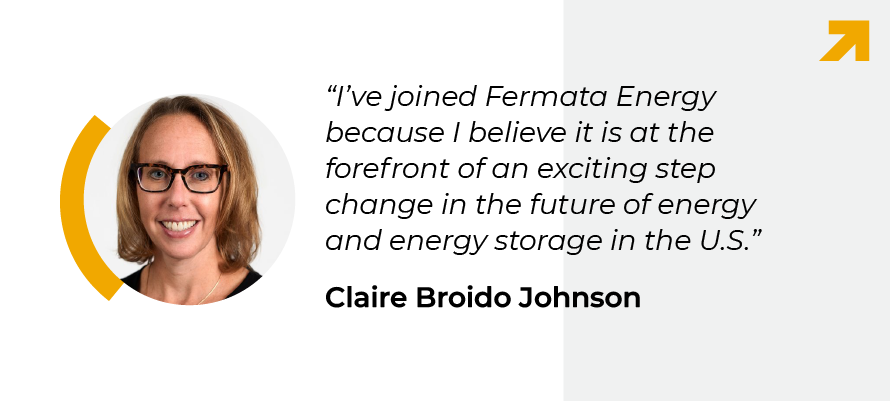 Claire Broido Johnson is a founder, funder and the preeminent voice for climate change innovation in Maryland.
She was just named Chief Operating Officer of Fermata Energy, the leading Vehicle-to-Everything (V2X) services provider. With the company's rapid growth, Johnson will scale operations to meet the increasing market demand for Vehicle-to-Everything (V2X) services.
"I've joined Fermata Energy because I believe it is at the forefront of an exciting step change in the future of energy and energy storage in the U.S." says Claire.
Johnson served as a co-founder of solar energy services provider SunEdison, which developed the groundbreaking power purchase agreement for the solar industry. Most recently, she was the managing director of the $10 million Maryland Momentum Fund, which invests in Maryland early stage companies. In 2009, she joined the Department of Energy, where she oversaw the deployment of $11 billion in Recovery Act funds to scale renewable energy and energy efficiency programs throughout the United States.
Eileen O'Rourke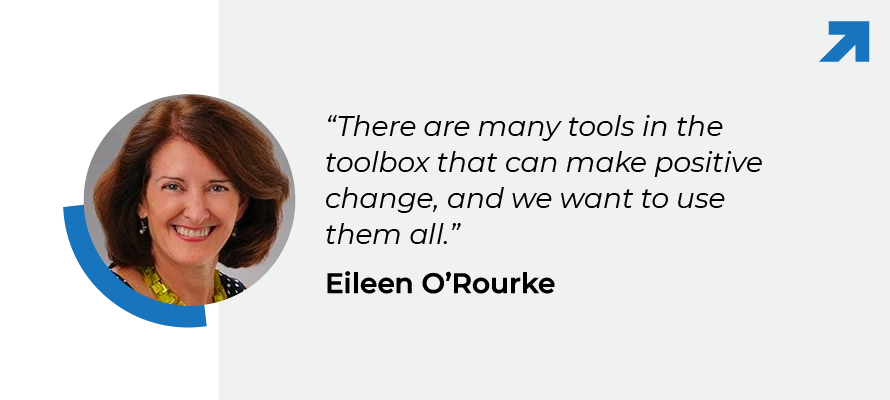 Eileen O'Rourke is CFO of the Abell Foundation, where she has been impacting startups and social entrepreneurs for over 23 years.
The Abell Foundation is committed to improving health, economic, and educational outcomes in Baltimore City so that all people can thrive. Eileen has a wealth of experience in building effective teams, problem-solving and innovating, elevating financial management, reporting and operations, and managing diverse projects to successful outcomes
She's invested in a wide range of Baltimore tech and biotech, and coached and made connections for many more. "There are many tools in the toolbox that can make positive change, and we want to use them all," says Eileen.
Follow Abell Foundation on Twitter.
LaToya Staten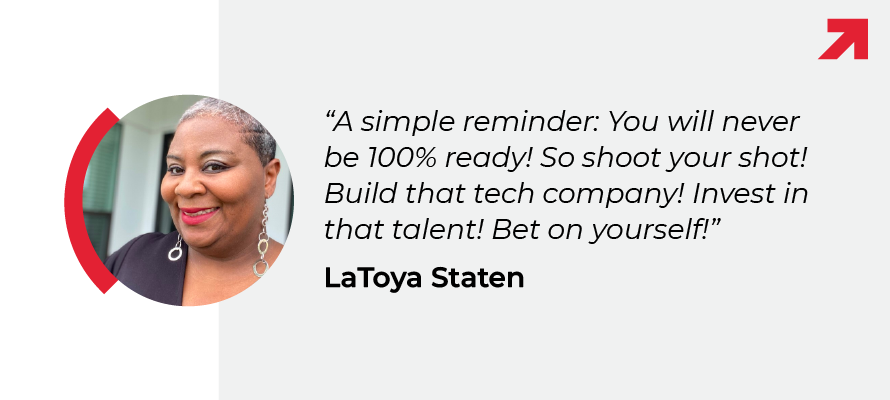 LaToya Staten leads strategic projects for Fearless. Fearless is a full digital services firm in Baltimore that is building community, capacity and working relentlessly to create more opportunities for women and minorities in tech.
She is an outstanding organizational and workforce development relationship builder with the interpersonal skills necessary to gain the trust and confidence of cross-functional business and technical teams, external partners, and community stakeholders.
Fearless is a full-stack digital services firm in Baltimore that delivers sleek, modern, and user-friendly software designed to push the boundaries of possibility.
"I believe in learning by doing," says Latoya, who brings her statewide networks together on behalf of Baltimore founders. On Linkedin, LaToya regularly encourages entrepreneurs. "A simple reminder: You will never be 100% ready! So shoot your shot! Build that tech company! Invest in that talent! Bet on yourself!"
Deb Tillett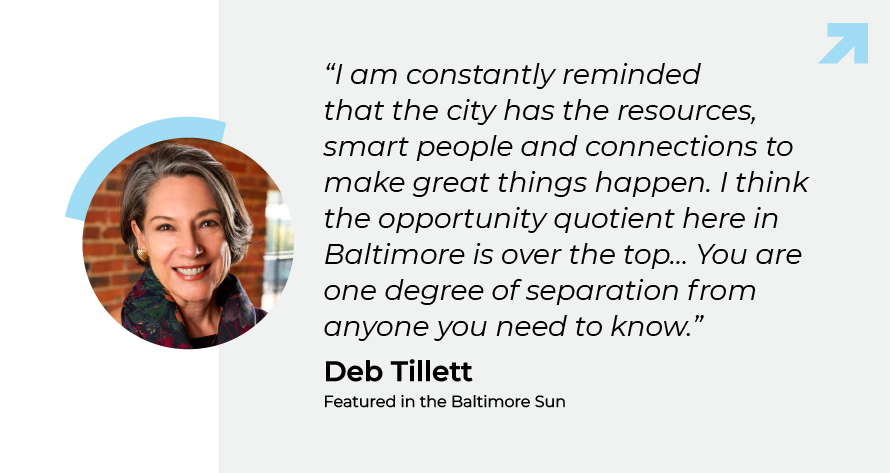 Deb Tillett is a female tech pioneer, beginning her career more than 30 years ago.
The path of entrepreneurship can often be a long and lonely road, that is unless Deb Tillett has something to say about it. A successful entrepreneur, veteran of the video game industry, professor, and long-time mentor to founders and startup hopefuls, Tillett is an integral figure in Baltimore's tech ecosystem, leading the charge to develop and connect Baltimore's technology-entrepreneurship community.
She has spent the last 10 years supporting the development and growth of 100s of Baltimore startups as the President & Executive Director of the ETC and AccelerateBaltimore.
"I get asked a lot what a typical day is like for me here and I always say it's like a day at the improv because you just don't know what to expect. I need to be prepared to talk about the 103 companies we work with, to talk about how we've brought up to $1.9 billion in outside investment to this region. My job is to create jobs. And every time you hire someone, they pay taxes and the city of Baltimore benefits," says Tillet in a recent Baltimore Magazine interview.
Jessica Watson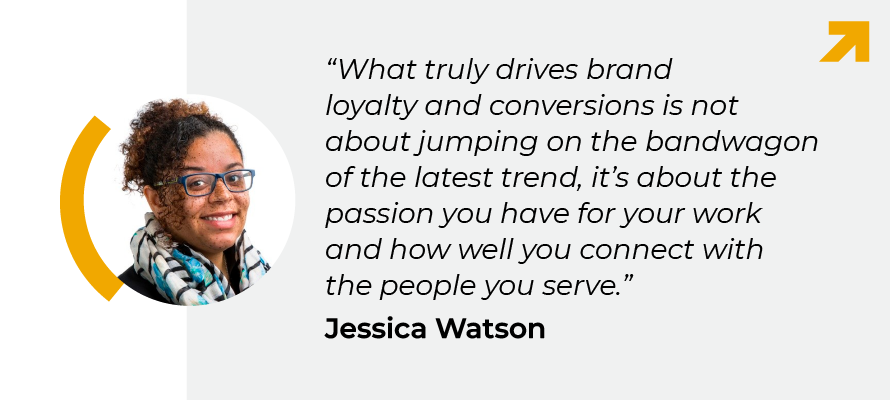 Jessica Watson, CEO of Points North believes we all have a story to tell.
Points North believes good design can change the world. So they challenge the status quo by creating experiences that bring together people, passions, and causes. They do that with exceptional brands, websites, and stories. With over a decade of experience working in marketing for diverse companies, global foundations and startups, Jessica knows what truly drives brand loyalty and conversions—and it's not about jumping on the bandwagon of the latest trend, it's about the passion you have for your work and how well you connect with the people you serve.
Additionally, she is the co-founder of Gratify, and the visionary behind Have A Nice Day Project.
"I have always viewed the world through creative eyes, and the work that I do is an extension of that energy," she says.
Christy Wyskiel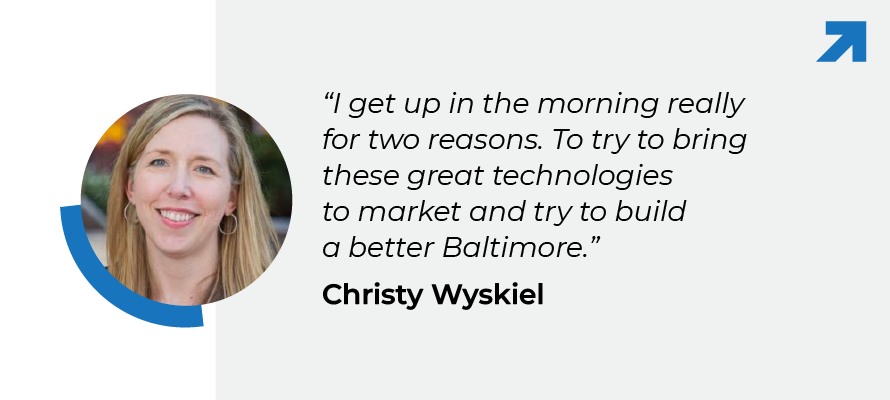 Christy Wyskiel is the Executive Director of Johns Hopkins Tech Ventures.
Christy is dedicated to cultivating local talent and companies, ensuring obstacles don't become permanent roadblocks. She has propelled Hopkins into the top tier of innovation universities in the country by translating resource dollars into real-world solutions for unmet needs. She works tirelessly to fill Baltimore's skyline with thriving tech and biotech companies built by the innovations of JHU faculty and students.
"I get up in the morning really for two reasons. To try to bring these great technologies to market and try to build a better Baltimore."
Interested in learning more about our vibrant tech community?
Visit Innovators on our website. You can also stay up to date on the latest happenings in our ecosystem by signing up for the newsletter.
–
Cover image courtesy of Baltimore Womxn in Tech.