Jacob Hsu, CEO of Catalyte
To test his theory that aptitude is equally distributed, even if opportunity is not, Michael Rosenbaum developed a way to identify non-traditional software engineers in any community.
With easy access to networks across the country, the former White House economic advisor and Fellow in Law and Economics at Harvard could have located the resulting business anywhere in the U.S. He chose Baltimore.
As he considered the city, Rosenbaum recognized a quality beyond the media narrative: potential.
"We needed to find a way to help underserved communities access the knowledge economy as it took off," he explained. "This wasn't just about shifting an individual's trajectory. We knew our approach could also transform the communities where they lived and the companies where they worked."
Baltimore was the perfect launching pad for Catalyte, a company that recognizes that the kind of education, work experience and pedigree data highlighted on resumes are simply not good predictors of a worker's potential. With its innovative talent transformation solution, Catalyte has not only proven Rosenbaum's point here, it has expanded to six cities across the U.S., raising funding from a host of investors, including AOL co-founder Steve Case's Revolution's Rise of the Rest Fund and MaC Venture Capital.
From minimum wage to six-figure incomes
Catalyte helps employers solve tech talent shortages in two ways. It uses its Odyssey talent transformation platform to discover, train and advance hidden tech talent within any population. And it makes engineering resources, including retrained apprentice developers, available on-demand. Many of these retrained developers come from unconventional backgrounds, and they often find Catalyte through Craigslist, local job boards, or classified ads. Recruits have included security guards, truck drivers, artists, military veterans, fast food workers, and Ph.D.s, all looking for an onramp into higher wage careers.
Applicants take an online screening that discovers software development aptitude. Less than 20% of applicants who take the screening move on to Catalyte's 26-week free training. Those that complete the training are hired directly, either by clients or by Catalyte. Developers hired by Catalyte enter into a full-time two-year apprenticeship, earning about $40,000 a year. After five years, Catalyte-trained developers earn close to six figures on average, whether they stay at Catalyte or move on to tech jobs elsewhere.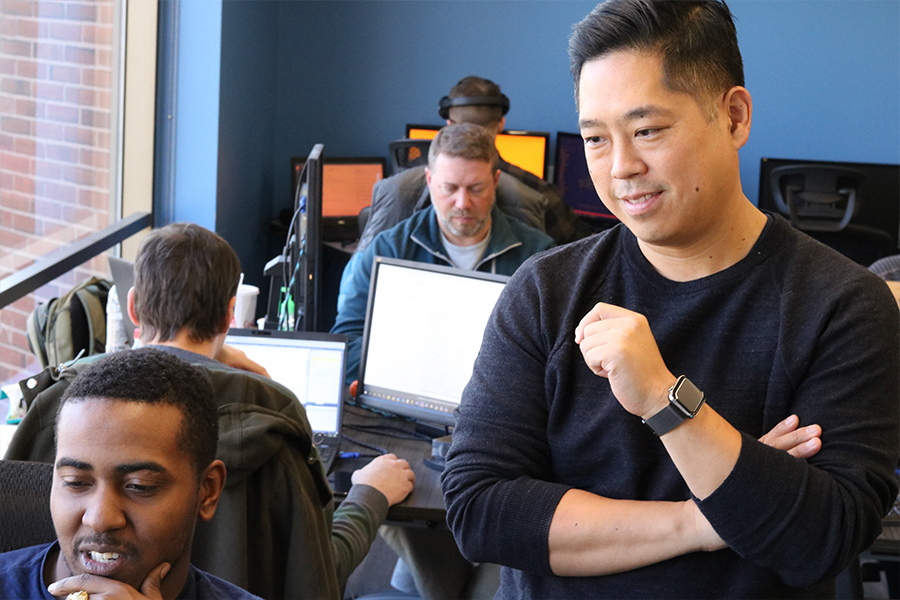 Finding the right place – right here
Baltimore has not only been the right place for Catalyte to take root, it has also been the right place from which to launch its model nationally, unveiling "exceptional talent … hidden in plain sight."
Catalyte's leaders recognized a huge demand for software developers – an industry that the federal government predicted would expand by 22% between 2019 and 2029 – outside of traditional hotspots like Seattle or Silicon Valley. And they saw untapped talent close to home.
CEO Jacob Hsu described how the model is taking hold. "Companies are realizing that there are alternatives [to the traditional tech markets]," he said. "We've proven that the talent they need to survive exists where they are currently located. They just need to go about finding it in a new way."